El Dorado County Fair & Event Center
I redesigned this website in 2016. Staff members update pages when needed and maintain the event calendar. I add new pages or delete pages as the Fairground evolves.
Sierra Benefit Solutions
Sierra Benefit Solutions is an employee benefit consulting firm located in Northern California.
Wells Fargo Center for the Arts
As the Sr. Graphic Designer/Webmaster, I designed this website working with Kristi Buffo, the PR Manager to create a very content rich site about our non-profit and about the shows and programs we provide to the community. (This site has since been converted to a wordpress site.)
HartSong Ranch Animal Sancturary
Working with the Harts, I designed this website to raise public awareness of the plight of these previously abused and neglected animals.
HartSong Ranch Animal Sanctuary is a magical place for horses and farm animals. Here, we settle them into a world of quiet and tranquility, a paradise within nature, a forever home… a place where they will suffer no more.

HartSong Ranch celebrates the vivid emotions of farm animals and strives to enlighten the public about these fascinating beings through sanctuary tours, rescue efforts and "on the ranch" classroom sessions focusing on kindness to animals and compassionate food choices, based on our belief that…every life matters.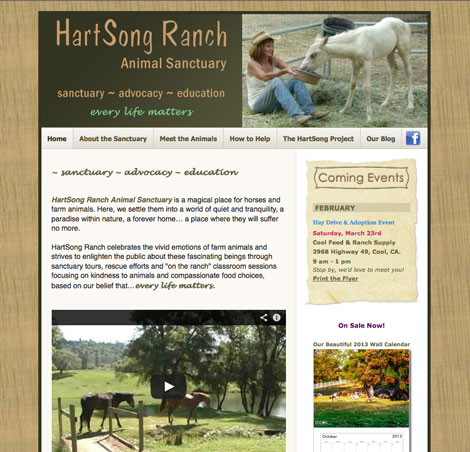 Douglas P. Morgan Painter
Doug needed a website where he could post information about his work, post his new paintings along with his upcoming shows.
See website managed by others »
ACLU of Sonoma County
I designed this site, working with content developers David Williams and Sheila Schmidt for David Grabill of the Sonoma County chapter of the ACLU. I also designed the project website used to organize and show our work.
Banner Ads