After Effects
Gears on Brushed Metal
A fun little project where I made shapes 3-d and interactive
After Effects
El Dorado County Fair commercial

Commercial for the El Dorado County Fair using Adobe After Effects
Premiere Pro
Gateway to the Sierra commercial

Commercial for the Gateway to the Sierra event using Adobe Premiere Pro
Premiere Pro
WFCA Lobby and Box Office Video Non-profit Message
The video running in the lobby and above the box office without the show listings that change regularly.
Final Cut Pro
A Treasured Life

I scanned and put books of photos together in less than two days for my brother-in-law's funeral. The second song is a song that Mike fell in love with and learned, so he could sing it to Jody on their fifth anniversary. The photos are a little fast and they could use some more work. I was going to fix it, but my hard drive crashed and I lost the files. I guess it was meant to be what it is...
We love and miss you Mike.
iMovie
Who I am-A tribute to a Fair Manager
Driving home after taking hundreds of photos at the fair, I heard this song on the radio. I thought it would be a perfect song to describe Jody, the fair manager, so I put this together for her.
Flash
A Story about Gardening
Here is a little story about the joys of gardening
The flowers are the main navigation. The black boxes are the secondary nav.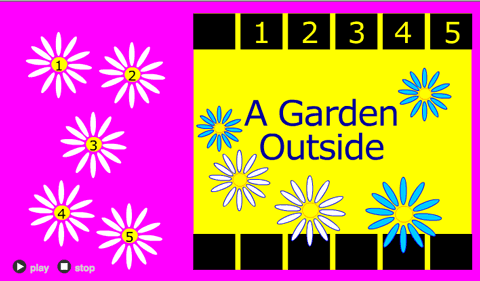 Flash
Mini Portfolio
A flash portfolio
The list on the bottom is the main navigation. The boxes on the art to the right are the secondary nav.